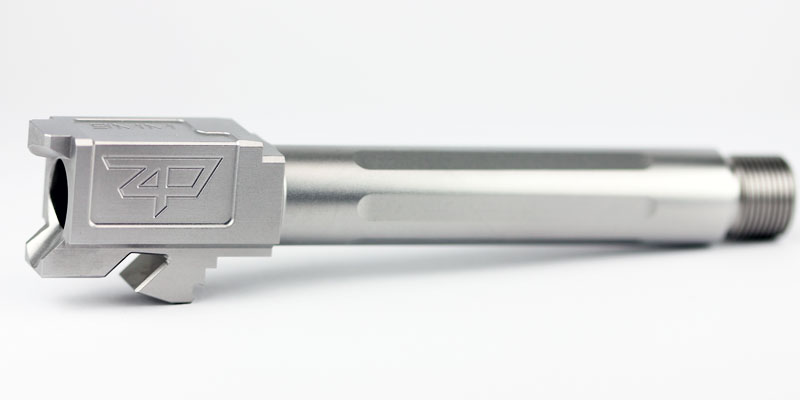 Custom Glock Barrels
The Tactical Store custom barrels are made from 416R U.S. made stainless steel and have tight tolerances with performance in mind from our unique crowned cut to our threaded 1/2×28 barrels. Both will improve performance and the looks of your custom Glock.
Custom Glock Slides:
The Tactical Store Glock slides weigh less than factory slides which reduces reciprocating weight, reduces fatigue and allows for faster shot follow-up placement. All of our slides are available in Black Nitrated coating PVD or 12 colors of cerakote.
Why choose a Tactical Store Custom slide or barrel for your Glock modification?
Most of the slides we manufacture or modify are equipped with a Ruggedized Miniature Reflex (RMR) cut, and come with a matching cover plate that fills the void when the RMR is not installed. (We also offer other optic cuts, please contact us for your optic design.)
Glock Modifications:
The Tactical Store employs 4 factory trained Glock Armors and we offer an array of modifications to be performed on your Glock. We offer services like:
In-house services including:
Finger Groove Removal
Undercutting the trigger guard on all Glock models and
Hand stippling services to improve your grip and control
Why shoot with a Trijicon RMR?
This compact red dot sight was durable enough to be mounted directly to the slide of a pistol, allowing the use of a red dot sights on a more practical handgun that could be used for concealed carry or duty use. When mounted on  The Tactical Store Glock  slide, the Trijicon RMR will co witness with most suppressor height sights and allow the shooter to use either the red dot of the RMR or the iron sights depending on the shooters situation.